SYR (Fred Bellot)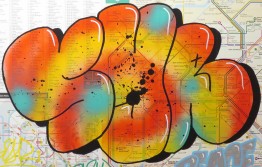 Fred Bellot is a French street artist who works under his TAG "SYR". He has been involved in designing, drawing and coloring since childhood. In the early 90s he focuses on street art, but only in 2015 he becomes aware of his talent in that area. Just like his big examples SEEN and BANKSY he now works on different materials (cardboard, cloth, wood) with different techniques (spray paint, posca, acrylic paint).
Bellot lives and works in Savigny-le-Temple near Paris. Art connoisseurs give him a great future and his works quickly increase in price.
Products
€ 395,00 Free duo
€ 395,00 Be Happy
€ 395,00 Old school
€ 435,00 Love
€ 95,00 Vert flop
€ 525,00 Yes (4 delen)
€ 450,00 Graff
€ 395,00 Boom
€ 395,00 Urban SYR
€ 395,00 The wall of words 2/2
€ 375,00 Xtrem
€ 75,00 Plan de Métro de Paris "Street"
€ 75,00 Peace
€ 75,00 Paint