Marcel de With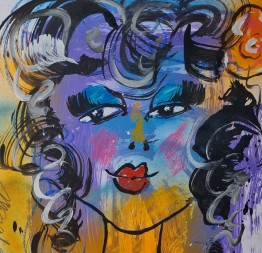 Marcel de With was born in Sneek (The Netherlands) on 26 September 1964. But he now lives and works in Heerenveen. In 1990 he attended the reproduction photography course at the association of light printers and reproduction photographers in Amsterdam.
The painting crept into his blood early, partly because of his father who also painted. Marcel started painting in 2004 and has been successful from the start. Both with commissioned work and with his free works. He likes to paint with a lot of colour, warmth and a happy appearance. He often uses women as a theme, which he portrays in a classic way but with a raw side. "It has to look raw, in a mix of history and now" Marcel says.
Marcel uses acrylic paint, spray paint, oil crayon and stencils that he applies to canvas.