Paul Kostabi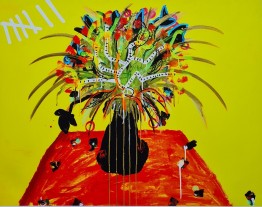 Paul Indrek Kostabi (1962, Whittier, California) is an American artist, musician, producer and sound engineer. He is the brother of artist Mark Kostabi. His works are known as "psychedelically intense" with faces and explosions of colour.
Paul Kostabi is known for having a very relaxed personality; he can be happy to paint on museum quality canvas or just on a piece of cardboard from the trash can. His mind leads him to paint and it shows in his work. The freedom of every brushstroke and the sudden burst of paint splashes. His work is characterized as childish careless expressionism.
Works of Paul Kostabi are in the permanent collections of the Paterson Museum (New Jersey) and the Guggenheim Museum (New York).
Products
€ 225,00 Le Bouquet
€ 175,00 Les yeux bleus
€ 175,00 Where's the Beef
€ 175,00 Clombers of Fifth Street
€ 175,00 On the way to grace
€ 175,00 The great escape
€ 175,00 Bukowski
€ 175,00 Blazing Star
€ 175,00 AMC Hotel
€ 175,00 SPRKL
€ 175,00 Petting zoo
€ 175,00 Three figures
€ 175,00 Acrisia black
€ 175,00 Acrisia