Jacob Kanbier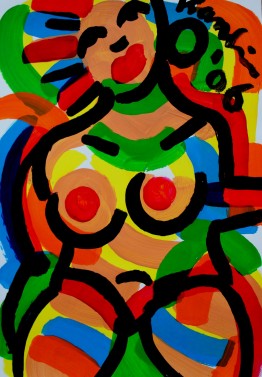 In 1985 Jacob Kanbier started his education at the art academy in Amsterdam, but art education did not appeal to him, so he is largely self-taught. Kanbier is inspired by Willem de Kooning and Jean-Michel Basquiat in particular. Following in the footsteps of these artists, he mainly makes 'rough' work in an 'explosive' creative process, with the name 'live-action painting'. He counts himself among the neosymbolists. He has collaborated with related artists such as Justus Donker and Peter Klashorst's After Nature group.
In 1987 Kanbier had his first solo exhibition at Museum De Lakenhal in Leiden and performed in an action-painting show at the Boulevard of Broken Dreams in Amsterdam. Herman Brood, Jules Deelder and Simon Vinkenoog also took part in this. In 1989 he presented the Manifesto of Neosymbolism at the Stedelijk Museum (Amsterdam).
Kanbier worked, after periods in Paris, Prague and Friesland, in his hometown Leiden. His work is part of the art collections of, among others, Queen Juliana, Prince Willem-Alexander, the Senate building in The Hague, Museum De Lakenhal, Wim Kok, Hedy d'Ancona and Felix Rottenberg.
Products
€ 110,00 Marbella
€ 175,00 Lady in purple
€ 225,00 Vrouw op paars