Ad van Hassel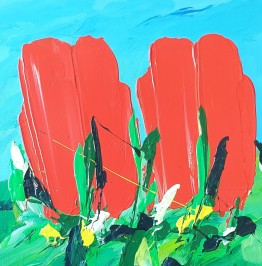 Ad van Hassel was born in Roosendaal on April 26, 1953. In 1980 he started painting. After years of creative wanderings, in 1983 he started two exclusive galleries in the Amsterdam Sonesta and Krasnapolsky hotels. He is best known for his tulip paintings.
In 1990 Van Hassel committed himself to making silkscreen prints of his paintings. He achieved such good quality that soon other artists also had their work screenprinted by him. For 12 years he was Herman Brood's printer. Corneille, Jan Cremer, Rob Scholte, Shunyam, Peter Diem and many other artists frequently used his professional knowledge.
After the death of Herman Brood and Corneille, he specialized in a completely new technique. With CNC laser cutting and milling of various plastics, he produced incredibly colored sculptures. Making these artworks turned out to be a hit. The sculptures find a way to galleries in Holland and abroad.
At this moment Van Hassel is working on new developments in art. The Cobart technique plays a prominent role in this. However he still takes the brush every now and then. His studio and showroom therefore contain not only sculptures, but also the paintings.
Products
€ 250,00 Tulips red 70x70cm
€ 250,00 Tulips yellow 70x70cm
€ 375,00 Zonnebloemen
€ 235,00 Tulips red 50x70cm
€ 235,00 Tulips yellow 50x70cm
€ 235,00 Tulips white 50x70cm
€ 195,00 Tulips yellow 50x40cm
€ 275,00 Red tulips