Peter Klashorst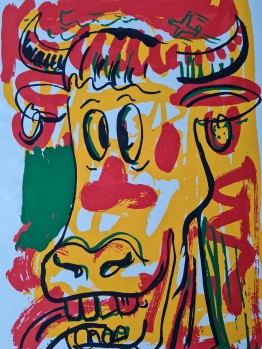 Peter Klashorst (Santpoort, 1957) graduated cum laude from the Gerrit Rietveld Academy in Amsterdam. He became one of the leading personalities of "The New Wild Ones", an art movement in Europe, and in 1983 he received the prestigious award (Royal Grant for the Free Painting) from Dutch Queen Beatrix.
In 1987 Klashorst was one of the initiators of 'After Nature', an international art collective reinventing painting and bringing art to society. The collective "After Nature", with its founders Peter Klashorst, Roberto Cabot, George Dokoupil and Ernst Voss, resisted the prevailing non-figurative style. Klashorst was often found in New York's East Village, where he showed his work in the Daniel Newburg Gallery and the International Met Monument Gallery.
Klashorst traveled the world in search of inspiration, tired of the commercial art world. Like his heroes, Arthur Rimbaud (poet) and Paul Gauguin, he went to Africa. Full of romantic ideas but of course also with the harsh reality of African city life. He exhibited at the National Museum of Kenya and gave lectures and workshops to local artists and children. He was also arrested for his uncompromising sculptures and paintings.
Klashorst now lives in the city of Phnom Penh in Cambodia.