La Pointe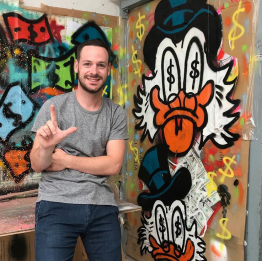 Born in 1993, La Pointe is an French artist who always wanted to express himself through his drawings and sculptures. After the loss of a part of his heart, La Pointe makes string art pictures to keep himself busy during his recovery, hence the origin of the name La Pointe.
After that, he starts making pop art. His works are full of emotion, often very colourful. Each of them is unique.
Characterised by pop art and urban art, he expresses himself best through mixed media on his handmade wooden paintings or on different supports: Acrylic paint, spray paint, Posca, collage, stencils.
Products
Sold Picsou Pirate - Bison Troublant